Mulberry WIth Silver Band Cremation Urn for Human Ashes - Adult Funeral Urn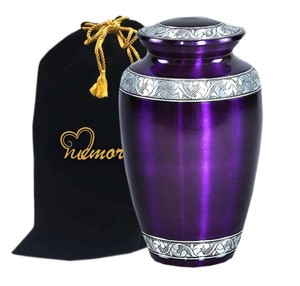 ---
Excellent Products By Wecooz ABOUT US FEEDBACK CONTACT FOLLOW US
Mulberry WIth Silver Band Cremation Urn for Human Ashes - Adult Funeral Urn Handcrafted - Affordable Urn for Ashes - Large Urn Deal
This CREMATION URN is a True Hand-crafted product ensuring each urn is UNIQUE, AFFORDABLE URN and DURABLEThis ADULT URN comes with top opening with a threaded lid and felt bottomFUNERAL URN fits the remains of most adults weighing up to 200 lbs.Color: Purple, Dimensions: 8''L x 8''W x 11''H. Capacity 200 cubic inchesWe have a unique selection of other Metal and BRASS CREMATION URNS in our store MEMORIALS4U
Memorials4u's Classic Mulberry With Silver Bands is elegant and affordable CREMATION URN . The urn is made from solid metal and the perfect lacquer coat to preserve its brilliance. It comes with top opening with a threaded lid and felt bottom. The Purple color with Silver bands are uniquely engraved by hand for each urn to show beautiful detail giving the FUNERAL URN a unique look to each finished product. Our urns are handcrafted uniquely by an ancient process called sand casting. This ADULT URN holds up to 210 cubic inch of cremains and approximate measure is that 1-pound weight prior to cremation equals 1 cubic inch after cremation . Dimensions: 10-inch-high x 8-inch diameter. All of our urns are in our warehouse and ready to ship as soon as payment is cleared. Usually we ship within one business day of receipt of payment.
100% Satisfaction Guarantee
♦SATISFACTION→ We carry elegant and high quality products and we trust that you will be very happy with the quality and creative design of our products
♦BEST PRICE GUARANTEE
♦EASY RETURN→ If you do not like the product after arrival please contact us by contact form and report the issue within 3 days after product arrival and we will refund your money after product is shipped back to us. But, once product is used we will not accept return due to the personal nature of this product
Brand
MEMORIALS 4U
Item Model Number
AL101
Manufacturer
Memorials4u
Color
Purple
ItemDimensions
8 x 11 x 8 inches
Item Weight
0.04 pounds
Delivery
3-7 days for USA
Returns
Return within 30 days, use return label provided by us upon request ONLY.
CATEGORIES
› Electronics › Sporting Goods › Tools & Home Improvement › See All
PAYMENT
SHIPPING
NOTE
Every Wecooz items comes with 1-month warranty for USA Any quality issue, please contact with us without hesitation.
About Us
Wecooz : Excellent Service : Excellent Products : Excellent Feedback
Links
› ABOUT US › FEEDBACK › FOLLOW US › NEWSLETTER › CONTACT
Follow Us